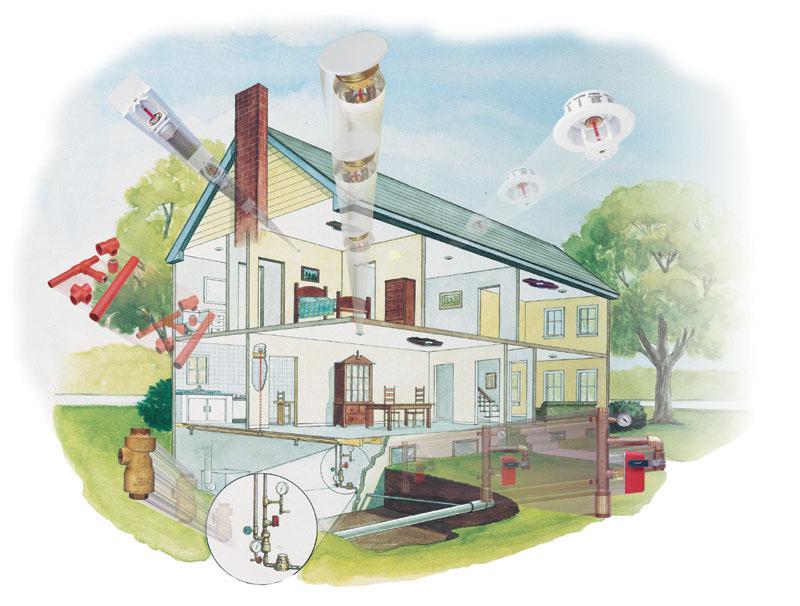 Fire Sprinkler Inspection & Servicing
Choose Hayden for your Commercial & Residential Fire Sprinklers
We are a trusted leader for commercial business and residential fire sprinkler inspection and repair in Northern California. We provide annual inspections and test of existing fire sprinkler systems of every type, including wet pipe to dry pre-action and FM 200 and UL 300 systems.
We can service a wide variety of sprinkler designs in any type of new home or business – even those with specialty layouts, high or sloped ceilings and other distinctive configurations.  Please Contact us for a free estimate by emailing us or calling us toll-free at 1-800-417-0440.
The importance of Fire Sprinklers
They are necessary to protect your home or business investment. A typical fire sprinkler system operates off the household water main and uses piping that is installed behind walls and ceilings in finished areas.
How Fire Sprinklers Work
Attached to the piping at intervals are the individual sprinklers. Concealed sprinklers are often used in finished areas. An unfinished basement may have exposed piping and pendent sprinklers instead of concealed sprinklers. Each sprinkler can protect a minimum area of 12 x 12 feet. Extended coverage sprinklers are available that protect even larger areas.
Sprinklers activate independently – unlike hard-wired and interconnected smoke alarms. If there is a fire, only the sprinkler closest to the flames will operate. A recent study showed that in about 90% of home fires, only one sprinkler was necessary to control the fire.
Home & business fire sprinklers can be seamlessly incorporated into any interior design, without sacrificing comfort or style. Sprinkler systems are designed specifically for the homes where they'll be installed, by experts who have experience creating systems that are highly effective and also efficient.
See how fire sprinklers work by viewing the following video: