Fire Extinguisher Installation & Servicing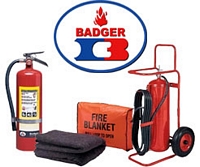 Keep all your extinguishers current and certified by using our monthly or annual inspection and maintenance services.
Your home and place of work will be protected with our selected Fire Protection products. Choose form a variety of portable and wheeled fire extinguishers. These extinguishers vary in weight from 2.5 to 125 pounds.
Allow  one of our technicians do an on site evaluation of your Fire Protection needs.

2.5 lb to 20 lb ABC Multipurpose Fire Extinguisher
Badger's stored pressure multi-purpose dry chemical fire extinguishers are designed  for fire risks in most commercial, industrial and domestic settings. Always handy with a wall hook, forked hanger or optional retention bracket.

6 liter, K Class Wet Chemical Fire Extinguisher

Made to stand up to Class K combustible kitchen fires, Badger Wet Chemical Extinguishers are easy to use and very effective in handling the difficult types of cooking media fire hazard situations that you can encounter in commercial kitchens.

Badger Halotron®, I Fire Extinguisher
This safety product is recommended for computer rooms, data storage, telecommunication,  robotics and other high-tech industries. The brackets are made of metal and the cylinder is made from aluminum. This fire extinguisher is sold individually.

Badger Water Fire Extinguisher
Water extinguishers, the original fire fighting tool, are effective on class A fires and should never be used for any other class fire.
Class A fires are fires in ordinary combustibles such as wood, cloth, paper, trash, rubber, and many plastics.


Badger Carbon Dioxide Fire Extinguishers are the right choice for data processing centers, labs, telecommunication rooms, food storage and processing areas and other places where contamination and/or clean up is a concern.
CO2 is liquefied gas, which effectively fights B and C class fires.

Badger 125lb Wheeled Unit Fire Extinguisher
These units give a quick and adequate response by getting the fire-fighting chemicals to the site fast. The wheeled units are commonly found in petroleum plants, large storage facilities, construction sites and equipment depots, but they can also be useful in other settings. The 125 lb. units are capable of fighting class A, B and C fires.